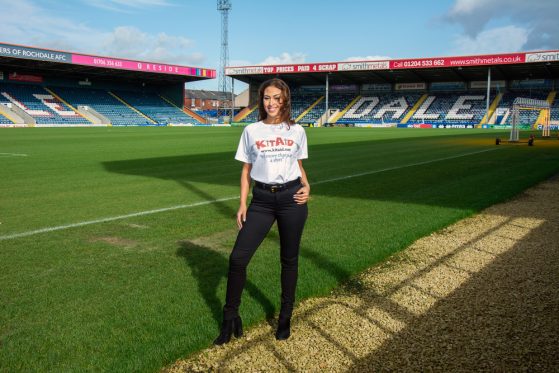 Photo credit: Greg Couzens
"I am delighted to announce that I have accepted an invitation from KitAid Charity, in becoming their first Ambassador.  This is an immense dream come true and I am very excited to be able to highlight KitAid's incredible work that they do providing hope, joy, breaking down barriers and making a difference!
Through my own personal experiences and those of my mothers, I am a huge advocate of female empowerment and it is an absolute honour to have been invited by Derrick Williams of Kit Aid Charity."
KitAid is a volunteer based registered charity (1113968) which provides football/sports kit and equipment for projects in the developing world. It was formed in 1998 by Derrick Williams MBE, following a visit to Tanzania, where he spotted a young boy wearing a worn-out Liverpool FC shirt. On his return home he showed the photo to friends who all agreed to donate kits they no longer needed. From one box of kit in 1998, the charity has now donated 625,000 items, across Africa, South America, Asia and Eastern Europe.
KitAid receives kit from every level of the football pyramid including Premier League clubs such as Liverpool FC, Everton FC, Manchester Utd FC, Arsenal FC, Watford FC, EFL clubs (Reading FC, Cardiff City FC), Non-League clubs (Chesham Utd FC, Altrincham FC, FC United of Manchester) and many hundreds of grass roots clubs from across the UK, Each year around 70,000 items of kit are received, sorted and sent to projects via trusted charity partners.
The charity has a saying – "It's more than just a shirt…" This is highlighted by feedback from many charity partners as they use the kit for their projects. These range from Health/HIV education, gang crime prevention and even a recent example of a partner charity in Uganda using the donated kit to engage with poachers to stop them killing chimpanzees. The donated kits have also helped many thousands of teams who are often prevented from entering into a league if they do not have a full kit. KitAid has over 30 charity partners and has delivered kit to 55 different countries In 4 different continents.
After the untimely passing of Graham Taylor OBE in 2017, who was Patron of KitAid, a decision was made not to replace him in his honour. Instead, individual Ambassadors would be recruited to represent the different areas of work supported by KitAid. Mary HD has been chosen as she represents girls and women who can relate to her values and achievements.
Derrick Williams MBE, KitAid – "We are both delighted and excited that Mary HD has accepted our invitation to become an Ambassador for KitAid. She reaches out to a new audience who otherwise may not get to hear about our work. She also represents a lot of girls and women who will aspire to her values and she can act as a "mentor in kind" to the many young women we support through our work across the developing world. We look forward to working with Mary and to introducing her to the projects KitAid supports."